Scientific Resources - NUCLEUS
NUCLEUS provides access to over 130 IAEA scientific, technical and regulatory resources. This includes databases, websites, applications, publications, safety standards, training material and more.
Go to NUCLEUS →
Featured Scientific Resources
The International Nuclear Information System (INIS)
INIS offers online access to a unique collection of non-conventional literature.
Read More →
Power Reactor Information System (PRIS)

PRIS contains information on power reactors in operation, under construction or those being decommissioned.
Read More →
The IAEA Library
The IAEA Library offers access to many databases, journals and other resources.
Read More →
More Information Resources
The Net Enabled Waste Management Database (NEWMDB) contains information on national radioactive waste management...
Read More →
The Human Health Campus is an educational andresources website for health professionals in radiation medicine and nutrition.
Read More →
The CNPP covers background information on the status and development of nuclear power programmes in countries...
Read More →
The Research Reactor Database (RRDB) contains administrative, technical and utilization information on over 670 research reactors...
Read More →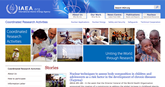 The Coordinated Research Activity (CRA) programme helps foster the exchange of scientific and technical information...
Read More →