Human Resource Development for Introducing and Expanding Nuclear Power Programmes:
Summary of an International Conference Held in Abu Dhabi, United Arab Emirates, 14–18 March 2010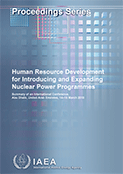 English
STI/PUB/1574
978-92-0-134410-6
54
2
40.00
2012
Description
This publication is the proceedings of an international conference on human resource development for introducing and expanding nuclear power programmes. Experts from many Member States discussed the current state of human resource development in the nuclear field and addressed concerns about possible shortages of qualified people. The conference identified several issues for consideration by national governments, international organizations, industry and stakeholders and highlighted the importance of sharing knowledge and expertise. One of the main goals of the conference was to provide participants with practical tools that can be used at the organizational, national and international levels to develop and maintain the human resources needed to support the safe and sustainable introduction and expansion of nuclear power programmes. These proceedings include a summary, the opening and closing speeches and invited papers. The publication also includes a CD-ROM which contains the contributed papers and presentations.
How to order
Ordering Locally
Please use the following links for an up-to-date list of IAEA distributors:
Distributors of IAEA Publications
Orders and requests for information may also be addressed to:
Marketing and Sales Unit
International Atomic Energy Agency
Vienna International Centre
PO Box 100, A-1400 Vienna,
Austria

Tel.: +43 1 2600 22529, +43 1 2600 22530
Fax: +43 1 2600 29302
Email: sales.publications@iaea.org
---