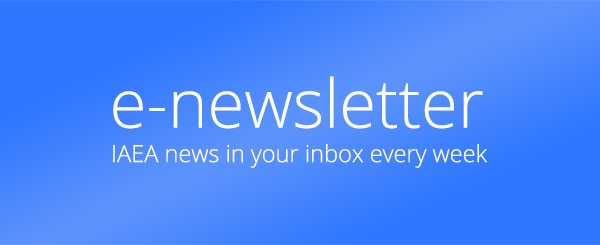 If you would like to learn more about the IAEA's work, sign up for our weekly updates containing our most important news, multimedia and more.
Evolving for the Future
Safeguards and Nuclear Power
Adem Mutluer
As nuclear power technology continues to evolve, the number of nuclear facilities increases and the amount of nuclear material grows around the world, safeguards technology needs to keep pace to stay effective. Safeguards are a set of technical measures to verify that nuclear material and technology are used for peaceful purposes only and are not diverted to make nuclear bombs.
"Artificial intelligence, additive manufacturing and distributed ledger technology are some of the changes on the horizon that may impact the implementation of international safeguards," said Chad Haddal, Safeguards Outreach Coordination Officer at the IAEA. "With the development of advanced means of nuclear power production, it is also a requirement that safeguards continue to be adapted to ensure continuous and effective safeguards verification."
Advances in technology are helping to make nuclear power production more sustainable, cost-effective, safe and secure. Reliable low carbon energy sources such as nuclear power have become increasingly important for many countries as they look for ways to decarbonize energy production and build a clean energy future.
"While nuclear power technology continues to develop, it is a requirement that safeguards are part of the plans," said Menekse Basturk Tatlisu, Safeguards Analyst at the IAEA. "States' safeguards agreements require that the IAEA can verify all nuclear material in their respective countries. To meet this obligation, States are required to provide design information for all nuclear facilities for which the IAEA can verify the use and amount of the nuclear material."
New and emerging tech
IAEA safeguards experts closely follow new and emerging technologies to stay abreast of developments and how they may influence their work. Part of this effort includes Emerging Technologies Workshops organized by the IAEA's Department of Safeguards, where international experts discuss and profile these technologies together with IAEA staff.
"Having experts profile new technologies with potential implications for nuclear power generation, and nuclear more generally, helps us understand how this could affect the safeguards mission and the environment in which we will be conducting the mission in the future," said Haddal. "We look to both the advantages offered and challenges posed by new technologies. We are required to be aware of and adaptable to relevant technological developments in our external environment, and we do that by taking a proactive and forward-looking approach."
Applying and refining technology
One of the latest examples of new technology being developed by the IAEA is a set of learning-based algorithms known as neural networks. These computer-operated networks are loosely based on the associative memory of the human brain and are designed to progressively learn, analyze, and identify patterns to help understand data.
In safeguards, analysts review large quantities of data collected through video surveillance. In 2019, 1,425 surveillance cameras were maintained by the IAEA at nuclear facilities around the world. These cameras operate around the clock. They provide continuity of knowledge of nuclear material and allow safeguards inspectors to make sure that there is no undetected access to the material and no undeclared operation of the facility. With some facilities using multiple surveillance cameras, this can produce a vast amount of data.
Using neural networks that could be developed through artificial intelligence and machine learning could help safeguards inspectors identify nuclear material movements and other safeguards-relevant activities at a facility. These technologies could also identify the most relevant indicators to assess and track objects and identify unexpected objects and behavior. This would allow analysts to use their time more effectively and efficiently when reviewing surveillance data.
Built-in safeguards
As technology opens new doors for effectively using nuclear power, experience has shown that it is best to design new facilities with safeguards in mind from early on.
"Building in safeguards considerations from the ground up is a win-win for a country, the operators and IAEA safeguards," said Basturk Tatlisu. "By including safeguards considerations early in the designs of new nuclear power facilities and processes, it can further ease the safeguards verification process for operators, as well as IAEA safeguards inspectors."
For example, by designing the fresh fuel storage, reactor core and spent fuel storage at a new nuclear facility with safeguards in mind, it can make safeguards implementation more cost-effective and efficient while minimizing the impact on nuclear facility operations.
Countries can turn to the IAEA's safeguards by design series of documents to find guidance and advice on which safeguards factors to consider when, for example, designing a new nuclear reactor, upgrading or constructing a nuclear facility, and setting up a long-term spent fuel management facility. The series provides advice for authorities, designers, equipment providers and prospective purchasers to make informed choices, while also building in the economic, operational, safety and security factors related to designing a nuclear facility.
"The safeguards by design series aims to help countries strike the optimal balance of cost, legal requirements and operational efficiency," said Basturk Tatlisu. "When developing all aspects of the nuclear fuel cycle, from initial planning to decommissioning, safeguards by design should be considered."