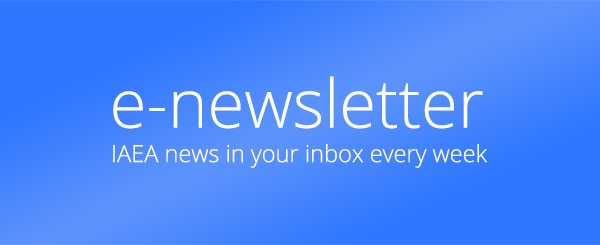 If you would like to learn more about the IAEA's work, sign up for our weekly updates containing our most important news, multimedia and more.
Rays of Hope
New initiative to bring cancer care for all
Lisa Berthelot
The global cancer situation
The chances of surviving cancer depend considerably on where you live in the world. For many people in low and middle income countries (LMICs), access to life-saving diagnostic and treatment services is still lacking — often stacking the odds against surviving a cancer diagnosis.
The lack of access to treatment is most acute in countries without facilities and personnel trained in radiotherapy. Radiation therapy is recognized as an essential tool in the cure and palliation of cancer, and is fundamental for treating over half of all cancer patients. Nevertheless, over 70 per cent of the population in Africa does not have access to radiotherapy, while other regions also have significant gaps in access. Only 5 per cent of global spending on cancer goes to LMICs and it is estimated that, by 2030, 70 per cent of cancer deaths will occur in these countries. A new IAEA initiative, Rays of Hope, is setting out to change that and to help LMICs increase access to cancer care.
Over one third of all cancers can be prevented, and some of the most common forms — including cervical, breast, head and neck, and colorectal cancers — are curable if they are detected early and treated appropriately.
National cancer policies and programmes, when well conceived and implemented, will help reduce the cancer burden and improve services for cancer patients and their families, regardless of the country context.
"With Rays of Hope, the IAEA will continue to support countries in enhancing their capabilities to better diagnose, stage and treat cancer, and will support global research, education and innovation."
A comprehensive approach to cancer control
Cancer control relies on evidence-based research to reduce the number of people who get cancer, experience cancer-related complications and die from the disease. This approach may be complex, costly and time-consuming, but, when implemented correctly, it can help countries to effectively reduce their cancer burdens and to increase the life expectancy of those diagnosed (see the infographic for a breakdown of what comprehensive cancer control requires and how it is supported).
Assistance to recipient countries is provided by working closely with international partners, such as the World Health Organization (WHO) and the International Agency for Research on Cancer (IARC). The IAEA also leverages capacities in each region by facilitating cooperation between countries and by using the capacities of technically advanced countries.
In 2022, the IAEA is seeking to further integrate its broad expertise to help the countries most in need of support in the diagnosis and treatment of cancer. This means bringing together technical and research project implementation, nuclear safety, resource mobilization, quality assurance services and missions, and the IAEA's convening and coordination role.
For over 60 years, the IAEA has supported countries in introducing nuclear techniques to diagnose and treat cancer. Through its technical cooperation programme, the IAEA provides long-term fellowships for training radiation medicine professionals, offers technical advisory services, procures equipment for diagnosis and treatment, supports radiation safety, conducts quality assurance, and publishes reports and guidance (see guidance on setting up cancer centres). These efforts help respond to the increasing demand for safe, effective and sustainable radiology, nuclear medicine and radiotherapy services around the world.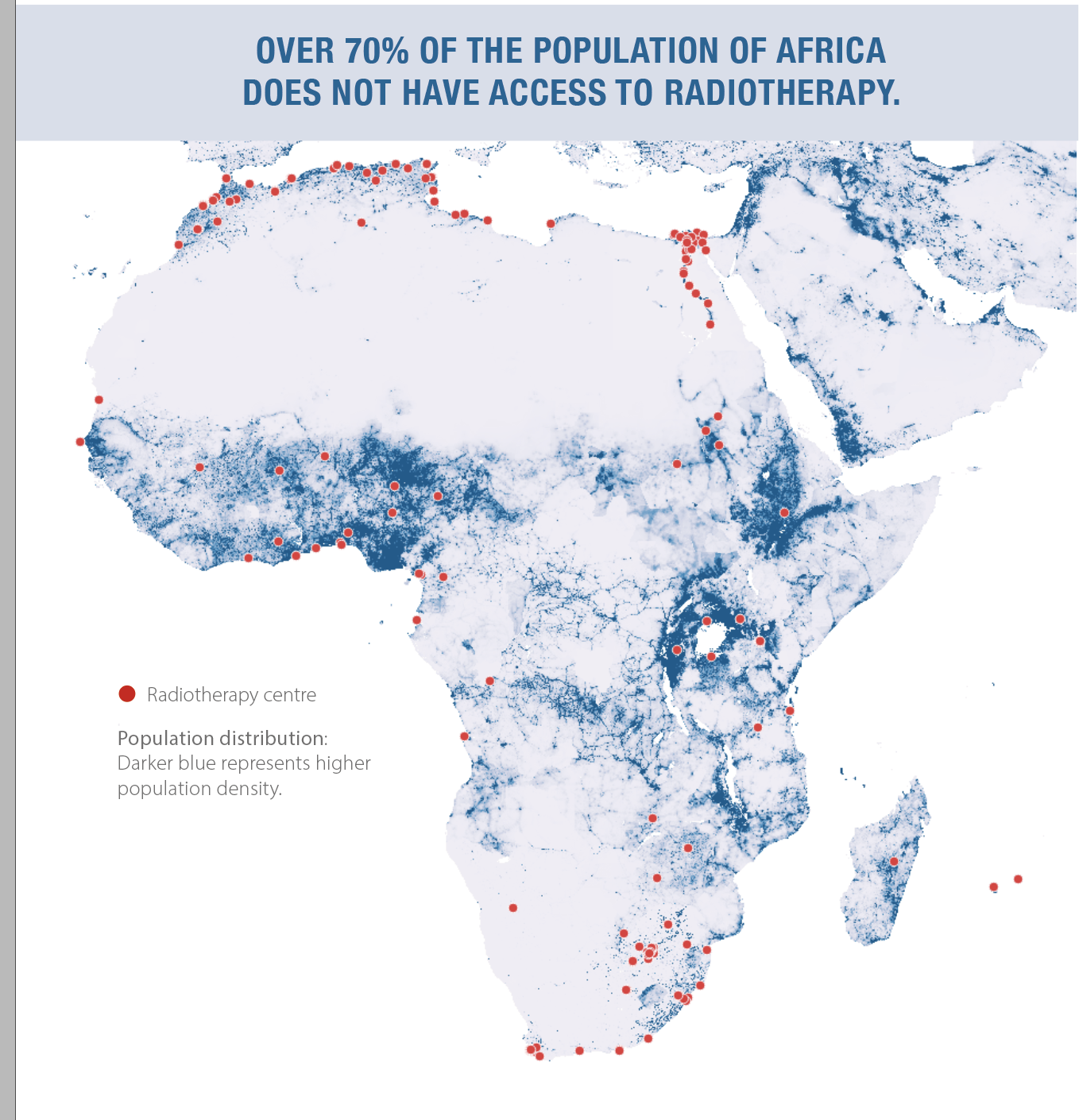 A new form of hope
Hope — bolstered by commitment and competence — is the driving force, as the IAEA launches its new effort to support transformative cancer care in LMICs. The staggering cancer statistics, coupled with a robust international support capability, have driven the IAEA to pioneer the Rays of Hope initiative, which is aimed at assisting LMICs with their urgent needs to introduce and improve radiation medicine capacities and to build the cancer care workforce.
Rays of Hope will support the sustainable, comprehensive introduction or expansion of radiotherapy, and will include support for regional 'anchor centres' and innovation.
For countries with limited or no radiotherapy facilities, support will be made available to establish their first radiotherapy centres or to expand radiotherapy and diagnostic imaging capacities, in order to reach more of their populations. These decisions are made in close consultation with the relevant Member States, according to their identified needs.
The initiative will be composed of projects with a focus on sustainability, to support building or strengthening radiation safety legislation and infrastructure, and providing quality control, guidance, training and equipment. In order to start in a strong and targeted way, Rays of Hope will initially focus on prioritizing a limited number of high-impact, cost-effective and sustainable interventions in accordance with national capacities, needs and commitments.
"The IAEA has the knowledge, tools and expertise to help countries use nuclear techniques, such as radiotherapy, to tackle cancer and save lives," said May Abdel-Wahab, Director of the IAEA's Division of Human Health. "With Rays of Hope, the IAEA will continue to support countries in enhancing their capabilities to better diagnose, stage and treat cancer, and will support global research, education and innovation."
The IAEA will also support innovation through coordinated research projects, as well as through educational infrastructure and support for anchor centres. These are centres that have provided experts and supported training in quality assurance, as well as the training of IAEA fellows, for decades.
The IAEA will continue to help countries to create technically sound bankable documents, which can be submitted to financial institutions to secure additional funding (read more here). The IAEA will also facilitate partnerships with potential donors, including governments, international financial institutions and the private sector.
Rays of Hope has been developed to directly contribute to the fulfilment of the 2030 Agenda and Sustainable Development Goal 3 (SDG 3), which focuses on good health and well-being, and, in particular, SDG Target 3.4, on the reduction of premature mortality from non-communicable diseases.
Rays of Hope from all corners of the world
To successfully launch the initiative, ensure its sustainability and maximize its impact, the IAEA is mobilizing additional resources, advocacy and partnership opportunities. Funding is needed to build facilities, purchase equipment and train personnel. Also included are the necessary operating costs for two years per country, in order to better support sustainability. Various machines are required for the treatment of cancer, including simulation units, cobalt machines and linear accelerators, and equipment to administer radioactive isotopes directly to cancerous tissue in the body. It is estimated that 50 per cent of cancer patients need radiotherapy treatments.
"Significant resources are needed to improve global equity in access to life-saving cancer treatment," said Lisa Stevens, Director of the IAEA's Division of Programme of Action for Cancer Therapy. "The goal of Rays of Hope is to bring together a global coalition of partners — including Member States, the private sector, development agencies and financial institutions — to support countries to establish radiotherapy centres and scale up existing capacities."
The IAEA has prepared three different support packages depending on country needs. Each package comprises an optimal combination of machines, training and support from regional anchor centres. These centres will be designated to provide training and quality assurance to neighbouring countries. Innovation is an essential part of the package to ensure resources are used to scale up access to radiation medicine, including the participation of experts from recipient countries in online training events and professional discussions, and to increase the cost efficiency and effectiveness of interventions. The packages will also contribute to advancing development priorities, such as gender equality, reducing health inequities for women and children, and enhancing education and training, thereby fostering socio-economic inclusion.
Radiation safety and nuclear security infrastructure is required in order to protect patients, staff, the public and the environment. As part of the multifaceted initiative, the IAEA will also support the development and strengthening of safety and security infrastructure in countries that receive assistance from Rays of Hope.
Through Rays of Hope, the whole breadth of the IAEA's expertise will be integrated to support countries in the diagnosis and treatment of cancer using radiation medicine — giving them a fighting chance.