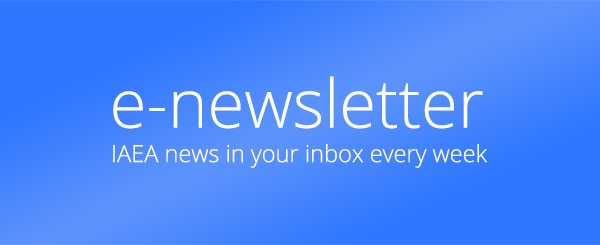 If you would like to learn more about the IAEA's work, sign up for our weekly updates containing our most important news, multimedia and more.
How can we achieve gender break-throughs in nuclear negotiations and technical cooperation?
Renata H. Dalaqua
"Our power structures have evolved gradually over thousands of years. One further evolution is long overdue. The 21st century must be the century of women's equality." — António Guterres, United Nations Secretary-General
Today, it is undisputable that women, as well as men, have a right to participate in international security discussions and shape the decisions that will affect their lives. For a long time, however, women were often barred from holding professional positions across sectors, and foreign ministries were
no exception.
For those countries that did have women in foreign service, many had formal restrictions on women's roles in diplomatic service. In certain cases, it was only in the 1970s that some countries lifted their so-called marriage bans, which required women to choose between marriage and a foreign service career.
Women have since come a long way, but despite making up 50% of the world's population, they continue to be marginalized and under-represented when it comes to dealing with international security issues. Ideas about who and what makes 'good' policy in nuclear security and non-proliferation are still strongly linked to masculinized norms, according to Still Behind the Curve, a study published in 2019 by UNIDIR.
In this study, surveys of more than 80 multilateral meetings on arms control, non-proliferation and disarmament spanning 40 years reveal patterns and trends related to gender balance in forums dealing with weapons and technology for both peaceful and military aims. Some of the findings show that:
Women comprise only one third of diplomats accredited to arms control, non-proliferation and disarmament forums.
In smaller, more specialized forums, the average proportion of women drops to around 20%.
The ratio between gender composition and the size of a given meeting may correlate, in part because countries typically select men when they can only send a single representative, while women are selected as second, or more often, third or fourth members of a delegation.
Men are over-represented as heads of delegations to a greater degree than would be expected given the overall proportion of men in a meeting. For instance, at the 2019 session of the Preparatory Committee for the Review Conference of the Parties to the Treaty on the Non-Proliferation of Nuclear Weapons (NPT PrepCom), approximately 76% of heads of delegations were men and 24% were women, while overall attendees comprised 71% men and 29% women.
To put these numbers into context, the study included focus group discussions with diplomats in New York, Vienna and Geneva to look at the institutional culture of arms control and disarmament diplomacy. The participants shared their perception that the field has rewarded characteristics, expertise and experiences that are more commonly associated with men, such as toughness, seriousness, risk-taking and military training.
These ideas and norms could explain some of the difficulties that women face when pursuing careers in the nuclear field. They could also be part of what hinders diversity and prevents innovation. Studies indicate that diverse teams tend to be more innovative and effective in anticipating problems and finding sustainable solutions, and innovation is what the field of international security needs more of now to overcome stagnation in arms control and effectively address opportunities and challenges posed by emerging technologies.
Gender equality at NPT meetings
As State Parties look to the future of the NPT, it is important to ensure gender-balanced conferences featuring both women and men at the highest level.
Over the past few years, a growing number of NPT State Parties have stressed the importance of improving gender equality and promoting gender perspectives in the NPT review process. At the 2019 session of the NPT PrepCom, over 20 statements delivered on behalf of more than 60 State Parties addressed the relevance of gender perspectives to the NPT. Eight working papers submitted in 2019 included references to the links between nuclear affairs and gender, with three papers exclusively dedicated to this topic.
As gender mainstreaming gains momentum in the NPT, there is an opportunity to expand attention to incorporating gender perspectives into the work of NPT diplomats, as well as nuclear experts and practitioners.
At a national level, countries interested in promoting gender equality in their delegations could set objectives and directives to improve women's participation by providing more speaking roles in negotiations and promoting women in leadership positions. At a multilateral level, NPT State Parties could request the NPT secretariat to collect, track and publish gender-disaggregated data and statistics on gender balance in delegations.
Integrating gender analyses and perspectives
If gender imbalances are to be addressed, equal representation in decision-making needs to be complemented by gender analyses in nuclear policies and technical programmes. A gender analysis examines the relationships between women, men, girls and boys, including their access to and control of resources as well as the constraints they face.
Applying a gender analysis to all three pillars of the NPT could be useful for understanding how gender affects issues such as exposure to nuclear risk, the impact of ionizing radiation resulting from the use of nuclear weapons, the ability to benefit from the peaceful uses of nuclear energy, and access to education and training in the nuclear field. A sample framework proposed by a group of NPT State Parties at the 2019 session of the NPT PrepCom includes questions that could be considered during the development, implementation and review of actions related to these issues. This topic is likely to come up again at the 2020 NPT Review Conference in New York.
Further integrating gender analyses and perspectives into the IAEA's work could help to ensure that people's diverse needs are equally addressed when accessing and benefiting from nuclear technology and its products.
Change isn't just about big headlines in newspapers, legal victories and international agreements; the way we plan and deliver everyday activities can create a ripple effect that benefits everyone.
As the world enters the United Nations Decade of Action, with the aim of delivering on the United Nations Sustainable Development Goals, the IAEA's contribution to the 2030 Agenda for Sustainable Development could be further strengthened by promoting atoms for peace, development and gender equality.
Striving for gender balance in nuclear
Women are still far from being adequately represented in the nuclear field, and the IAEA is working to address this. In March 2020, the IAEA Marie Skłodowska-Curie Fellowship Programme (MSCFP) was launched to help increase the number of women in the nuclear field and support an inclusive workforce.
Named after pioneering physicist and double Nobel Prize laureate Marie Skłodowska-Curie, the programme seeks to enable and encourage highly motivated female students to pursue careers in nuclear technology, research, safety, security and other related fields.
"Equipping women with scientific education and work experience will promote equal representation in the application of nuclear technologies to meet our shared global challenges such as climate change, growing populations and food insecurity," said IAEA Director General Rafael Mariano Grossi, who initiated the MSCFP.
Annually, more than 100 female graduate students are awarded MSCFP scholarships for master's programmes in nuclear-related fields at accredited universities, along with the opportunity to pursue internships facilitated by the IAEA. When awarding MSCFP scholars, diversity of both geographic location and field of study is taken into consideration.
The importance of women in science
Scientific breakthroughs in nuclear-related fields have given the world previously unimaginable benefits. Marie Skłodowska-Curie's groundbreaking work on radioactivity in the late 1800s enabled us to harness the power of the atom and develop countless applications in medicine, engineering and science.
As the world faces pressures from a changing climate, growing populations, food insecurity and increased energy demand, maintaining a qualified workforce to drive innovation and productivity is crucial. Nuclear-related studies can help countries tackle several of these challenges, and the high demand for qualified professionals in nuclear-related fields will continue to grow.
With its unique mandate to accelerate and increase the peaceful uses of nuclear energy, the IAEA is at the forefront of research and technology transfer and depends on a stable pool of qualified technical professionals to fulfil its mission. This workforce does and must include women.
Women, however, often face barriers in entering and progressing in the fields of science, technology, engineering and mathematics. The MSCFP seeks to enable more women from around the world to pursue careers in the nuclear field and is building up gender-balanced capacities relevant to nuclear energy and other nuclear applications, nuclear safety and security, and non‑proliferation.
More information about the IAEA Marie Skłodowska-Curie Fellowship Programme can be found at www.iaea.org/mscfp.