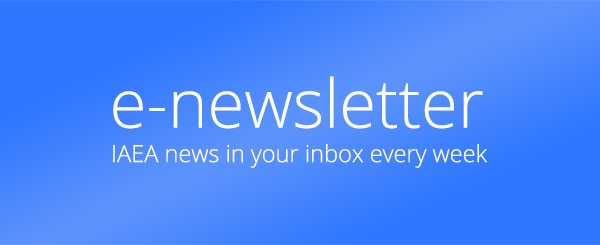 If you would like to learn more about the IAEA's work, sign up for our weekly updates containing our most important news, multimedia and more.
Sequencing Pathogens to Support Animal Disease Control
Michael Madsen
In 2019, an outbreak of foot-and-mouth disease (FMD) and an ineffective vaccine put an untold number of cattle, sheep, pigs, goats and other cloven-hoofed livestock in Morocco at risk. A highly contagious viral disease, FMD causes fever and vesicles in the mouth and on the feet of infected animals. This can lead to lameness and other symptoms, making the animals unfit for consumption, causing losses for farmers. The end of the outbreak began with a genetic comparative analysis that resulted in the selection of a different vaccine — a solution made possible thanks to IAEA support to local authorities, in partnership with the Food and Agriculture Organization of the United to Nations (FAO), in building capacity in advanced molecular techniques.
Viruses, like the one that causes FMD, are constantly evolving into new varieties and strains. Vaccines are an effective option to control virus outbreaks, but specific vaccines only work on specific virus strains. Understanding a virus's genome is essential to identifying the best vaccine.
Work to protect Morocco's cloven-hoofed animals began two years before the outbreak, when staff from the National Office for Food Safety of Casablanca were trained through the IAEA technical cooperation programme to identify and characterize disease pathogens and guide control and response measures. This is just one of many training initiatives conducted since the IAEA–FAO's genetic sequencing service was established in 2017. Today, support provided by the service stretches across Africa, Asia and Latin America and helps experts there use and understand the latest analytical techniques for pathogen characterization.
"Pathogen characterization and understanding the origins of animal and zoonotic diseases is essential for designing effective responses to such diseases," said Ivancho Naletoski, a technical officer for animal health at the Joint FAO/IAEA Centre of Nuclear Techniques in Food and Agriculture. Naletoski has been spearheading the sequencing service and supporting activities in training scientists globally in developing phylogenetic trees for animal and zoonotic diseases.
A branching diagram representing the evolutionary course of an organism, a phylogenetic tree helps scientists understand the relationship between different outbreaks of a virus and determine their source or origin. Naletoski says phylogenetic trees and in-depth genetic analyses support authorities in making the right choices to bring pathogens under control. "For decision makers, it's very important to have an accurate genetic profile of the viruses they're trying to address. These data can help save countries time and money when selecting vaccines. As a result, there's a growing demand for our service."
A network of support
To date, the IAEA–FAO's sequencing service has received over 4200 samples and sequences for 54 different animal diseases (such as FMD and African swine fever) and zoonotic diseases (such as rabies, brucellosis and Rift Valley fever). The scientists that contribute to the sequencing service network's database come from 25 laboratories around the world and rely on the service to perform genetic sequencing.
"Genetic sequencing machines can be very expensive to buy and maintain. Purchasing a machine makes sense for laboratories that have very large loads to process, but it is uneconomical for most country laboratories," said Naletoski. "We're helping small laboratories in poorer countries avoid the capital costs by offering the resources to work with established sequencing companies and obtain the same information as if they had the sequencing hardware locally."
The sequencing service provides scientists in the network with reagents and training on how to take high-quality samples and prepare them for sequencing, as well as on how to perform raw data processing and phylogenetic analysis. The service also helps coordinate and pay for these samples to be sequenced by a specialized, commercial sequencing laboratory. Therefore, the service is free-of-charge for the participating animal production and health labs.
"Because the actual sequencing is performed by a third-party, our focus is on helping labs properly prepare samples and interpret results. To do this, we've developed step-by-step, comprehensive guidelines and, before the pandemic, organized training events around the world," Naletoski explained, highlighting that the training relies on users who have mastered the service and the sample preparation process to train new participants.
Windhoek catches wind of new viruses
A prolific user and champion of the IAEA–FAO's sequencing service is Umberto Molini, a senior lecturer at the University of Namibia. Molini and the Central Veterinary Laboratory of Windhoek were among the first users of the sequencing service, back in 2016. Molini says that over the past five years, the sequencing service has not only helped Namibian authorities better understand the origins and different strains of known viruses circulating in Namibian livestock and game, but also discover viruses that were not known to be present in the country.
"We've found porcine circovirus type 2 in domestic pigs and warthogs, and influenza D virus in bovine and wildebeest. Surprisingly, we even found avian influenza in penguins," said Molini. In 2019, a big outbreak of avian influenza struck Namibia's endangered African penguin (Spheniscus demersus) population for the first time. With the help of the service, Molini was able to isolate and characterize the outbreak as the H5N8 strain.
"The outbreak killed around 500 penguins but having identified the virus and its strain, we were able to confirm that the efforts needed to stop the virus spreading to domestic birds were appropriate and necessary," Molini said.
While H5N8 likely came to Namibia from a migrating bird, outbreaks don't always come from the wild. In 2018, an outbreak of infectious laryngotracheitis affected chickens in Namibian poultry farms. Through the sequencing service, Molini discovered that the outbreak was linked to the improper use of a vaccine, so measures to stop the spread of the virus could easily be taken. "Genetic sequencing is a powerful and insightful tool in fighting diseases. If more countries can gain access to and learn how to use sequencing, society will be in a better position to stop future disease outbreaks," he said.