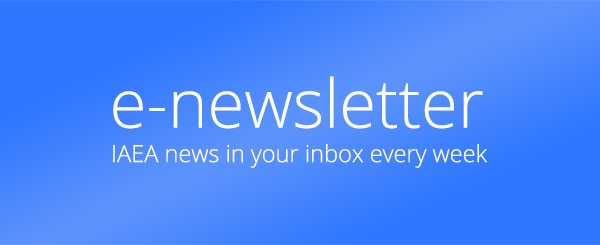 If you would like to learn more about the IAEA's work, sign up for our weekly updates containing our most important news, multimedia and more.
Innovation in Virtual Computer Security Training for Nuclear and Radiological Facilities
Anjarika Strohal
The omnipresent and ever-increasing digital technology trends of today are quickly and significantly changing our lives. Today's critical infrastructures, which include nuclear power and other peaceful uses of nuclear technology, are heavily reliant on digital technologies for their smooth and reliable operation. The promises of rapidly evolving new technologies, such as artificial intelligence, for solving problems and improving digitally controlled operations will likely be helpful in improving nuclear applications. As such, they are being used and considered today in advanced reactor designs.
Unfortunately, while these digital technologies do bring many benefits, they may also introduce many potential and unknown vulnerabilities. This is due to the ever-present threat of cyber intrusions or malicious cyberattacks on nuclear facilities that might exploit these same technologies.
The number and range of increasingly sophisticated cyberattacks have created urgent demand within the nuclear industry for computer security training for nuclear and radiological facilities. In order to help meet this demand, the IAEA has developed a series of training courses on topics from computer security fundamentals to more advanced computer security for instrumentation and control systems.
In delivering these customized, sophisticated and complex training courses, which feature hands-on experiential learning, the IAEA identified the need for a simple online platform that could standardize the curriculum and allow for its broader and more universal use by training entities — without in-person IAEA assistance. The COVID-19 pandemic travel restrictions and widespread use of virtual technologies further highlighted this need and accelerated the development of the platform.
By simulating real environments, the platform enables learners to acquire practical skills and experience that are essential for effective nuclear security management.
The virtual training tool, which is called 'Learners', aims to provide flexible and engaging computer security training courses to the nuclear community by offering training materials and the experience of hands-on exercises delivered in a virtual environment. Participants need only a computer and a reliable internet connection to access all necessary course materials. "The new platform is expected to play a pivotal role in improving computer security awareness and training for nuclear security, building a stronger community of experts, and helping to enhance safety and security in nuclear facilities and those associated with radioactive material," said Elena Buglova, Director of the IAEA Division of Nuclear Security.
From June 2023, the IAEA will make the Learners platform available globally in order to enhance computer security at nuclear facilities, as well as at facilities and for activities involving radioactive sources.
The Austrian Institute of Technology (AIT) — an IAEA Collaborating Centre for information and computer security for nuclear security — partnered with the IAEA to create the Learners platform.
"The virtual learning environment offers immense value to increase operational as well as strategic capabilities by supporting various training purposes," said Helmut Leopold, Head of the Center for Digital Safety and Security at the AIT. "By simulating real environments, the platform enables learners to acquire practical skills and experience that are essential for effective nuclear security management."
Learning to enhance computer security
The IAEA Learners platform is available on request to enhance nuclear security training. The platform is designed to be user-friendly for an international audience and offers multilingual support. It has various features, such as guided exercises, immediate feedback, presentation integration and multiscreen support. These make the platform adaptable and accessible for use by training organizations and direct users.
Learners is designed as a platform for the development, delivery and use of interactive simulated environments, and has been built using open-source technologies. Additional modules include standardized approaches to computing platforms, infrastructure provisioning and software provisioning, which enable easy sharing and knowledge exchange with existing IAEA training providers and other organizations intending to use the platform.
Twelve hands-on exercises have been created and organized into six thematic areas based on the IAEA's nuclear security guidance on computer security. "By using virtualized environments representative of real-world facilities, the Learners platform reinforces practical skills development and is supporting a more equitable access to knowledge and skills," Buglova added.
The Learners platform is one facet of the IAEA's work to raise awareness, strengthen cooperation and provide States with support to address growing cybersecurity threats in the nuclear sector. Capacity-building activities have been offered to over 120 countries in the past five years. Furthermore, tailored support through expert missions; national, regional and international training courses; technical meetings; and webinars have fostered active collaboration, knowledge sharing and skills development. In addition, the IAEA supports countries in organizing large-scale cybersecurity exercises.
A hands-on training and demonstration centre
Moving forward, it is crucial to continue investing in such capacity-building initiatives to ensure the highest standards of nuclear security worldwide. The IAEA's state-of-the-art Nuclear Security Training and Demonstration Centre (NSTDC) will open in the second half of 2023 to help strengthen countries' abilities to tackle nuclear terrorism through hands-on training experiences. The innovative training courses offered at the NSTDC will incorporate topics related to computer security and will include scenarios for cyberattacks that could potentially target nuclear facilities or facilities and activities involving radioactive sources.