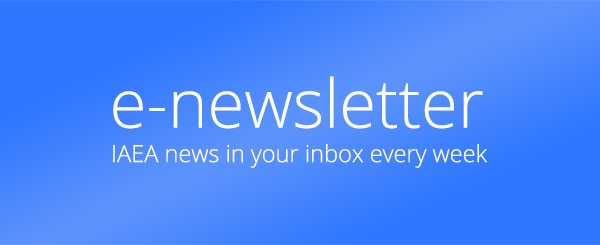 If you would like to learn more about the IAEA's work, sign up for our weekly updates containing our most important news, multimedia and more.
Better Screening and Treatment to Tackle Cancer in Paraguay
Andrea Galindo
In Paraguay, cancer is a leading cause of death and, every year, 12 000 Paraguayans are diagnosed with the disease. Limited equipment and a lack of trained personnel in the country mean that many diagnoses come too late and a third of those diagnosed — roughly 4000 people — do not survive. That figure is set to change, as IAEA support to the country ramps up and Paraguay gets its first public sector positron emission tomography–computed tomography (PET–CT) scanner.
"This PET–CT scanner will, for the first time, bring affordable, quality cancer diagnosis to those most in need. It will have a big impact on our ability to diagnose cancer early and reduce mortalities," said Mario Fabián Martínez Mora, Director General of the Health Science Research Institute, which received the PET–CT scanner in November 2021.
PET is a modern, non-invasive technique that involves the injection of radiopharmaceuticals into a patient. The radiopharmaceuticals are then traced by the machine for imaging purposes. Thanks to the hybrid nature of the PET–CT scanner, it is possible to produce quantitative three dimensional images to improve medical diagnoses and monitor treatments.
Over the past five years, the IAEA, through its technical cooperation programme, has mobilized more than €3 million to fight cancer in Paraguay. Technical cooperation funds, as well as extrabudgetary contributions from Japan and the United States of America, have been used to provide capacity building, to train local professionals in the safe and effective use of the necessary machines, and to procure equipment.
"Our objective is to improve the quality of life for cancer patients and improve survival rates. That starts with developing countries' facilities, human resource capacities, and national coordination strategies for cancer," said Luis Longoria Gandara, Director of the Division for Latin America and the Caribbean at the IAEA. "In Paraguay, the new PET–CT scanner is the latest in a string of technology transfers and other capacity building efforts for improving diagnostic access and accuracy for efficient therapeutic treatment."
Equipping to fight cancer
The new diagnostic equipment comes in addition to radiotherapy machines which have already been provided to Paraguay by the IAEA. The IAEA is now also procuring a linear accelerator, or linac, which will become the third such accelerator in the country and will help to provide much needed radiation therapy to cancer patients. According to Paraguay's Ministry of Public Health and Social Welfare, the country requires a total of seven linacs to meet its treatment needs.
Beyond linacs and scanners, in 2018 Paraguay received a high dose rate brachytherapy system, used in treating cervical cancer, and dosimetry equipment for ensuring radiation doses are sufficient, yet safe. Furthermore, the IAEA provided a gamma probe for lymph node detection and training on its use in detecting and treating breast cancer. Coupled with IAEA capacity building, these efforts have begun yielding results, with a significant reduction in the number of patients on the waiting list for treatment for cervical cancer — Paraguay's third deadliest cancer after breast and prostate cancers.