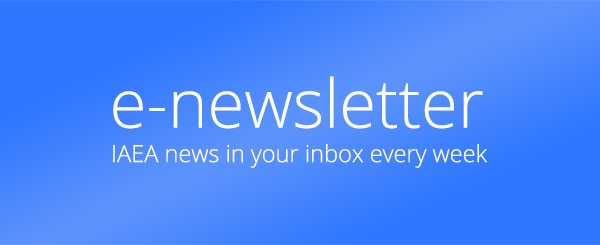 If you would like to learn more about the IAEA's work, sign up for our weekly updates containing our most important news, multimedia and more.
Bangladesh nuclear reactor construction progresses ahead of planned 2023 start-up
Matthew Fisher
Bangladesh is pushing ahead with the construction of its first nuclear power plant (NPP), and the IAEA, in line with its mandate, is supporting authorities in the South Asian country in the safe, secure and sustainable introduction of nuclear power. As the country of over 160 million aims to dramatically expand its economy and boost access to electricity, nuclear power is expected to provide 9% of its electricity after the commissioning of the plant in 2023 — six years after the first safety-related concrete was poured.
Once completed, the two reactors at the Rooppur site, some 160 kilometres north-west of the capital, Dhaka, will generate 2400 megawatts of round-the-clock clean electricity. But the introduction of nuclear power in Bangladesh is about more than just energy. The Rooppur project is at the heart of an ambitious initiative to transform a developing country into a developed economy by 2041, in part by scaling up electricity production, with some 2.7 million homes set to be connected to the grid over the next year alone.
Bangladesh is among 28 countries that are considering, planning or starting the introduction of nuclear power. The IAEA assists countries interested in developing peaceful applications of nuclear energy, including nuclear power. The IAEA's Milestones approach provides step-by-step guidance on the infrastructure for a new nuclear power programme.
"I have observed that Bangladesh is making good progress in the construction of the Rooppur NPP," said Mikhail Chudakov, IAEA Deputy Director General and Head of the Department of Nuclear Energy, following his visit to the Rooppur site in February 2020, when about a quarter of the plant's construction had been completed. "Bangladesh continues to demonstrate its commitment to introducing reliable, low carbon nuclear power to help drive socio-economic development."
With electricity demand rising by about 7% annually, Bangladesh is looking to expand as well as diversify and decarbonize its electricity sector through the addition of nuclear power and renewables, both of which are among the lowest emitters of greenhouse gases. Currently, natural gas provides nearly 80% of the country's electricity.
"Nuclear power will play a pivotal role in helping us meet our growing energy needs for Bangladesh's multifaceted development programme," said Mohammad Shawkat Akbar, Project Director of the Rooppur nuclear power plant project at the Bangladesh Atomic Energy Commission. "In addition to significantly boosting access to electricity, this project will help to achieve the national sustainable development goals by 2030 and help to transform Bangladesh into a developed nation by 2041 and also boost Bangladesh's scientific and technological capacity."
Construction of the plant's two water cooled and moderated power reactors began in November 2017, after the signing of an intergovernmental agreement with a subsidiary of Russia's State Atomic Energy Corporation "Rosatom" in 2011. The construction is largely funded by a loan from Russia, to be paid back over 20 years.
The IAEA has supported Bangladesh through its technical cooperation programme and the Peaceful Uses Initiative. This support includes Integrated Nuclear Infrastructure Review (INIR) missions, which assess a country's progress against the Milestones approach and make recommendations.
"Bangladesh is making great efforts to implement the remaining recommendations and suggestions made, including bolstering human resource development efforts," said Eric Mathet, Senior Nuclear Infrastructure Engineer at the IAEA. "This includes an ongoing initiative to train around 1000 staff from the operator. Bangladesh has also participated in scientific visits and other training courses offered by the IAEA," he added.
Recent developments include the arrival and installation of Unit 1's reactor pressure vessel, in October 2021. Bangladesh also recently finalized its Radioactive Waste and Used Nuclear Energy Management National Policy, which provides for the repatriation of spent nuclear fuel to Russia after interim on-site storage. It also established the Radioactive Waste Management Company, which will dispose of radioactive waste from a variety of sectors, including medicine.
"Bangladesh is closely working with the IAEA in developing our nuclear power programme, and the IAEA Milestones approach has been instrumental in helping us fulfil all of the associated requirements," said Akbar. "The INIR missions have also been valuable in assisting us in identifying areas which require additional attention for developing and implementing our national nuclear infrastructure in a responsible and orderly manner."
Energy consumption has long been linked to higher living standards. Expanding access to clean and reliable electricity can help Bangladesh to drive economic development and limit greenhouse gas emissions through reduced use of fossil and other fuels. In this way, nuclear power can contribute to achieving the United Nations Sustainable Development Goals.
Besides the INIR missions it has already hosted, Bangladesh has requested that an Integrated Regulatory Review Service mission be conducted in 2022 to examine its legal and governmental framework as well as its regulatory infrastructure for nuclear safety. The IAEA also completed a Technical Safety Review — Design Safety peer review of selected parts of the plant's design safety documentation in 2018. Additional peer reviews are also expected, including a final INIR phase 3 mission shortly before reactor operations commence.