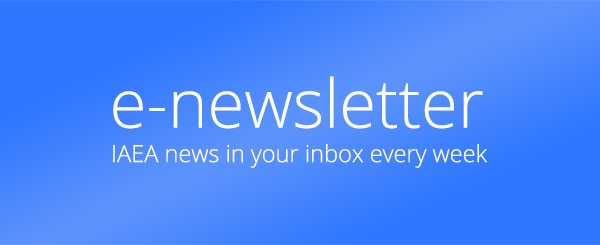 If you would like to learn more about the IAEA's work, sign up for our weekly updates containing our most important news, multimedia and more.
Why do children need to learn about radon?
Webinar
Presenter: Angela Tin 
Date of broadcast: 26 September 2018, 4 pm CEST
Organized jointly with the Conference of Radiation Control Program Directors (CRCPD)
About the webinar
Outreach and education programs for children as the focus audience are typically more successful than programs for adults only. Often when children learn about radon in school, they are more likely to encourage family members to test their homes for radon. Programs like poster and video contests or school and daycare testing programs have the potential to impact many different groups of people and help to increase the effectiveness of outreach campaigns. This webinar will explore why outreach efforts are making an impact on children and families.  
Radon is the leading cause of lung cancer in non-smokers. The United States of America's oldest voluntary health organization, the American Lung Association, is working to increase public awareness of the risks of radon by conducting outreach and education across the country. Some examples of these projects include the operation of a radon hotline in three U.S. states, a poster and video contest for children in U.S. two states, social media campaigns, school and daycare testing programs, and low-cost or free test kit programs.
The American Lung Association has been contributing to the betterment of public health since 1904. The ALA was originally formed to combat tuberculosis, but has since expanded to become a leading organization working to save lives by improving lung health and preventing lung disease. 
Learning objectives
During the webinar, participants will learn about:
Innovative awareness campaigns 
Techniques for expanding social media reach
Effectiveness of targeting youth with educational programs
Incorporating radon measurement (or testing) into educational programs
About the presenter
Angela Tin is an Environmental and Regulatory Compliance professional with a Bachelor's Degree in Physiology and a Master's Degree in Cell Biology. Previously she worked for over 20 years for the Illinois Environmental Protection Agency, in managerial and policy levels in the Bureaus of Air, Land, and Water.  As the current National Senior Director for Clean Air with the American Lung Association, Angela is primarily responsible for managing environmental projects associated with the organizations mission "to save lives by improving air quality for lung health and preventing lung disease".