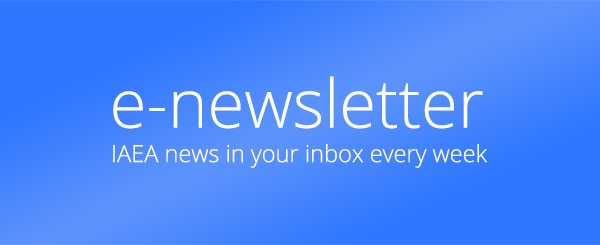 If you would like to learn more about the IAEA's work, sign up for our weekly updates containing our most important news, multimedia and more.
Webinar on IAEA Applicability of IAEA Safety Standards to the Design of Novel Advanced Reactors including SMRs
Webinar
Background
The IAEA Department of Nuclear Safety and Security (with involvement from the IAEA Department of Nuclear Energy) has completed a high-level mapping of applicability of the IAEA safety standards to Novel Advanced Reactors (NARs) including Small Modular Reactors (SMRs), high temperature gas cooled reactors (HTGR), sodium fast reactors (SFR), lead fast reactors (LFR), molten salt reactors (MSR), marine based SMRs and micro reactors.
Objectives
The objective of this effort is to inform interested stakeholders on the results of this review, focusing on the Design Safety Standards.
The purpose of this IAEA webinar is to:
Provide an overview to interested stakeholders from industry and regulatory bodies of the outcomes of the review of applicability of IAEA Safety Standards to NARs, with focus on the design safety.
Provide an overview of the activities that the IAEA has planned to address the findings of the review and produce additional guidance where needed.
Programme
Opening Remarks (Anna Bradford, Director of Nuclear Installation Safety)
Overview of Review of Applicability of IAEA Safety Standards to NARs (Paula Calle Vives, Chairman of WG on SMR Safety)
Applicability of Safety Specific Requirements to NAR Design (Bernard Poulat, Senior Nuclear Safety expert)
Applicability of Core Design Safety Standards to NAR (Stephen P. Schultz, Senior Nuclear Safety expert)
Applicability of Reactor Coolant System Safety Standards to NAR (Bernard Poulat, Senior Nuclear Safety expert)
Applicability of Containment Safety Standards to NAR (Kay Nünighoff, Senior Nuclear Safety expert)
Applicability of Instrumentation and Control and Electrical Systems to NAR (Alexander Duchac, Nuclear Safety Expert, Safety Assessment Section)
Applicability of Support Systems to NAR (Remy Bertrand, Senior Nuclear Safety expert)
Next Steps (Paula Calle Vives, Chairman of WG on SMR Safety)
Q&A