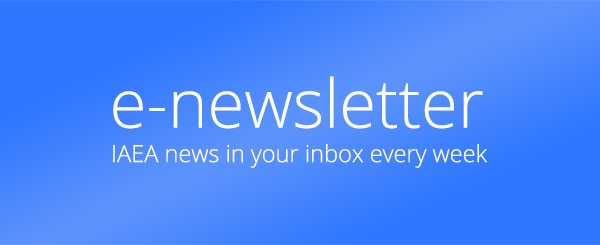 If you would like to learn more about the IAEA's work, sign up for our weekly updates containing our most important news, multimedia and more.
Safety of non-medical human imaging and inspection devices
Webinar
Presenters: Olga German (IAEA), Alex Kalaiziovski (Australia), Simon Coenen (Belgium)
Date of broadcast: 28 May 2020, 10:00 am CEST
About the webinar
"At the airport I am frequently asked to go through the body scanner machine. I wonder how safe this equipment is and what is the dose that I receive?"
"I work at the package handling station at the post office and we are planning to install these huge X ray machines to check the parcels. Is working with them safe?"
"Our customs authority is planning to install X ray portals for cargo scanning and I need to review their application. Which are the most important safety aspects?"
Do you know answers to these questions? Are you also interested in hearing about these and other technologies used for inspection and non-medical human imaging purposes? Are you willing to learn about the radiation safety aspects of the radioactive sources utilized? Then join the IAEA webinar on May 28.
Non-medical human imaging is the use of radiation to screen people for purposes other than medical diagnosis, medical treatment or biomedical research. Inspection devices are used to screen cargos, vehicles or parcels to detected concealed objects.
Growing security concerns globally have seen an increase in non-medical human imaging — such as screening of people to detect concealed objects, for instance prior to boarding an aircraft or when visiting a prison, or to determine the presence of drugs in the bodies of suspected drug couriers.
Ensuring the safety of non-medical human imaging and inspection devices is the focus of the recently issued IAEA Safety Guide on this subject. Olga German, an IAEA expert, will introduce you to the safety requirements that apply to these areas.
Experts from Australia and Belgium will explain main feature of different technologies used for the purpose and share their experiences of implementing safety requirements in their respective countries when dealing with inspection devices and non-medical human imaging.
Learning objectives
During the webinar, participants will:
Learn about relevant safety requirements and principles.
Gain a better understanding  about technologies utilized and their features.
Learn about national experiences in applying safety requirements when dealing with inspection devices and non-medical human imaging. 
About the presenter
Alex Kalaiziovski
Alex has a master's degree in Environmental Engineering Management and a Diploma in Government Investigations, with over 30 years' experience in radiation protection and regulatory compliance. After 17 years with the New South Wales Environment Protection Authority involved in the authorisation and inspection of industrial, medical and scientific uses of ionising radiation and broader environment protection issues, he moved to the Australian Radiation Protection and Nuclear Safety Agency (ARPANSA) as a Senior Regulatory Officer. In relation to this webinar Alex was at the forefront in Australia in the assessment of the authorised use of Xray systems for non-medical human imaging. He is a member of the IAEA's Radiation Safety Standards Committee (RASSC).
Simon Coenen
Simon has master degrees in Physics Engineering and in Nuclear Engineering and has more than 30 years' experience in the nuclear safety and radiation protection area. After 15 years of research on radiation hardening of various components and materials as well as being responsible for the safe operation of research reactors, Simon joined the Belgian nuclear regulatory body, FANC, where he started as a nuclear inspector for the major nuclear facilities in Belgium as well as for various uses of ionising radiation in industry and for inspection purposes. Currently he is a senior expert on nuclear safety and has various activities at international level: he is a member of both the IAEA's Nuclear Safety Standards Committee (NUSSC) and the INES Advisory Committee, which he chairs.
Both Alex and Simon were involved in developing the IAEA safety guide SSG-55: Radiation Safety of X Ray Generators and Other Radiation Sources Used for Inspection Purposes and for Non-medical Human Imaging.