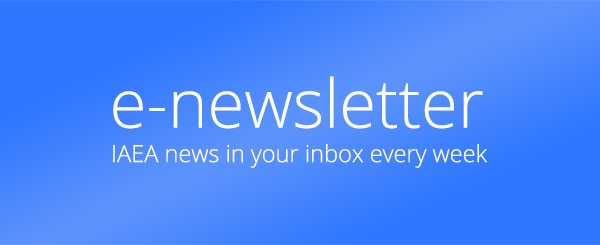 If you would like to learn more about the IAEA's work, sign up for our weekly updates containing our most important news, multimedia and more.
Global Nuclear Safety and Security Communication Network (GNSSCOM) Webinar series "Women in Nuclear "
Webinar
Description
The role of women in nuclear
Raising awareness among a varied audience, including the youth, young professionals and especially women on the important role nuclear science and technology is an important part the IAEA's activities.
Highlighting nuclear safety and security in the peaceful applications of this advanced technology in various fields such as medicine, industry, research and development, food and agriculture is vital.
Various stakeholders — including regulators, operators, health professionals using medical uses of radiation technology — play an important role in ensuring  the safety and security of nuclear technology, which is critical to  ensure that people and the environment are protected  from the harmful effects on ionizing radiation.
This webinar series specifically discusses challenges faced by regulators in widening awareness on the importance of safety, the safety processes in the operations of nuclear technology and how high levels of safety is paramount throughout the entire life cycle at a nuclear or radiological facility. It will also cover regulatory decision-making processes.
Nuclear safety and nuclear security are the primary concern for the regulator, who needs to ensure that the licensee or industry is fulfilling their obligations. Even though the public does not have the technical background to understand regulatory requirements for nuclear safety and security, it is still an obligation for the regulator to inform and explain to the public what the requirements for safety and security are.
Bringing women professionals together to create a dialogue, will provide participants with a unique opportunity to engage with speakers and learn more about this important topical subject. During the webinar series, senior professionals, who are all at various stages of their careers, will share their experiences working in the nuclear field.
Women in leadership positions have a special role to play as role models for young professionals, especially women, who will learn how they have navigated their careers in this advanced area of science and technology.  Participants will also have a unique opportunity to hear about leadership roles, the importance of effective communication and how women do and can play an important and contributing role in the nuclear field.
In its unique mandate to accelerate and enlarge the peaceful uses of nuclear energy, the IAEA is at the forefront of research and technology transfer and depends on a stable pool of qualified technical professionals to fulfil its mission. This workforce does and must include women.
.
This webinar aims to raise awareness for women and opportunities for them in the field of nuclear safety and security.
Participation
This webinar is open event welcoming for - GNSSCOM, GNSSN, Thematic Networks, Regional Networks -EuCAS, FNRBA, ANnuR, ANSN and other registered invitees.
Panellists with presentations/ discussions:
Mr Shahid Mallik - DIR-NSOC
Mr Gino Moonsamy - GNSSCOM Chair
Ms Vandenhove Hildegarde – DIR -NSRW
Ms Asfaw Katherine Elizabeth SH-PSCS, NSOC
Ms Marina Labyntseva - Unit Head (Education and Training Development) • NSNS
Ms Nayana Jayarajan - IEC Outreach Officer • NS
Ms Marie-Pierre Bigot Institut de radioprotection et de sûreté nucléaire (IRSN) France – Vice Chair GNSSCOM
Ms Olena Mykolaichuk – DIR- NEFW representative WiN IAEA