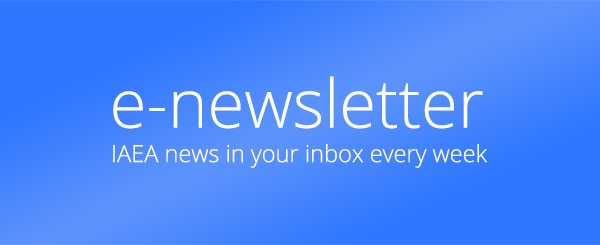 If you would like to learn more about the IAEA's work, sign up for our weekly updates containing our most important news, multimedia and more.
Development of educational resources on radon for health care providers
Webinar
Presenter: Bill Field
Date of broadcast: 28 June 2018, 4 pm CEST
Organized jointly with the World Health Organization (WHO)
About the webinar
Health care providers often provide advice to their patients to help them stay healthy by taking measures to prevent cancer and other diseases. Since they generally are not well-informed about the health risks posed by protracted radon exposure, they are not prepared to provide guidance on the proactive steps that their patients can take to reduce radon exposure.  
This webinar describes the development of a new radon guide for health care providers titled A Guide for Health Care Providers - Reducing the Risk From Radon: Information and Interventions.  Dr. Bill Field, who was part of the team that developed the guide at the request of the non-governmental professional organisation - The Conference of Radiation Control Program Directors, will discuss the development of this guide and other resources and strategies to educate health care providers about radon. Such materials enable health care providers to better advise their patients about the health risk associated with protracted exposure to radon decay products. The webinar aims to enable participants to begin developing guidance adapted to their areas. 
Learning objectives
During the webinar, participants will learn about:
the scope and content of the new radon guide for health care providers 
common health care providers' misperceptions about radon
educational resources on radon for health care providers
the development of sample radon guidance for use in health care settings
examples of interventions health care providers can facilitate to reduce the burden of radon-related lung cancer
About the presenter
Dr. Bill Field is a Professor at the University of Iowa's College of Public Health who has been actively involved in radon research and communicating the health risk of radon for over 25 years.  He has served on the U.S. Environmental Protection Agency's Science Advisory Board since 2010, and he chaired the Board's Radiation Advisory Committee in 2014. He also serves as a Presidential Appointee on the National Institute for Occupational Safety and Health's Advisory Board on Radiation and Worker Health.