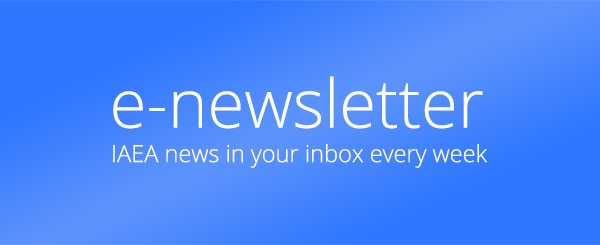 If you would like to learn more about the IAEA's work, sign up for our weekly updates containing our most important news, multimedia and more.
Development of a regulatory framework for Naturally occurring radioactive material – experience of the United States
Webinar
Presenter: Ruth McBurney 
Date of broadcast: 27 November 2018, 4 pm CEST
Organized jointly with the Conference of Radiation Control Program Directors (CRCPD)
About the webinar
Radionuclides of natural origin contained in or released from process materials during mineral extraction, oil and gas production, or water treatment may pose a risk to workers, public or the environment. These radioactive elements in minerals and ores originally found in the environment are commonly known as NORM – naturally occurring radioactive material. Some NORM materials require radiation control and regulation.
In the United States, radioactive materials are regulated not only by how they are defined, but also by the regulatory body, which gives authority for their regulation. Some radioactive materials, if possessed and used for their radioactive properties e.g. for medical diagnosis and treatment, industrial measurements and irradiation, and nuclear power production, are defined as sources, special nuclear or byproduct materials under the US Atomic Energy Act (AEA). NORM regulated under the framework of the US Nuclear Regulatory Commission and Agreement States is categorized based on its form and origin.
Other diffuse NORM materials are produced and/or associated with industrial processes. These are not regulated under the AEA and left to the individual states for regulation.
This webinar will provide an overview of the regulatory framework for most radioactive materials and for the efforts to provide a similar risk-informed basis for regulating diffuse NORM materials.  
The Conference of Radiation Control Program Directors is a national professional organization made up of the directors and staff of the state, local and territorial radiation control programs. The organization is responsible for development of model state regulations to maintain consistency among state regulatory programs.  
Ms. Ruth McBurney, Executive Director of CRCPD, will discuss the efforts, both within the organization and collaboratively with other organizations and agencies, to address radiation protection issues involved managing and regulating NORM. 
Learning objectives
The webinar will focus on:
The regulatory framework for radioactive materials in the United States and the various regulatory authorities involved.
How NORM is currently regulated in the states and examples of regulated industries involving NORM.
Efforts to provide a more consistent and pragmatic approach for the management and regulation of diffuse NORM.
About the presenter
Ruth McBurney is the Executive Director of the Conference of Radiation Control Program Directors (CRCPD).  Prior to taking that position in January 2007, she had 29 years of service in radiation control programs in Texas and Arkansas.  Ms. McBurney is currently serving as a Member of Council and the Board of Directors of the National Council on Radiation Protection and Measurements and is a past President of the Health Physics Society. Ms. McBurney holds a Master of Science Degree in Radiation Sciences from the University of Arkansas for Medical Sciences.