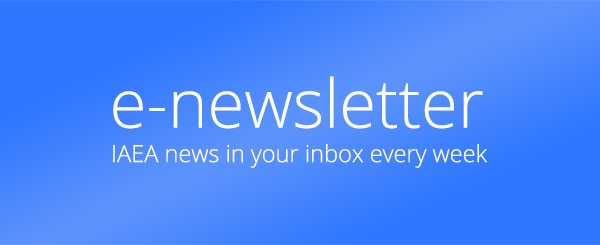 If you would like to learn more about the IAEA's work, sign up for our weekly updates containing our most important news, multimedia and more.
rpop
Justification and Guidelines in Medical Imaging
Video
Presenter: Guy Frija
Date of broadcast: 24 January 2019, 3 pm CET
Organized jointly with the EuroSafe Imaging 
About the webinar
The use of high-tech diagnostic imaging procedures like computed tomography (CT), positron emission tomography (PET), magnetic resonance imaging (MRI), and nuclear cardiology tests, has notably increased in the last decade. While remarkable technological advances have enabled precise imaging of many complex physiologies and often ensure more accurate diagnostics, concerns are being raised that the sharp increase in these tests does not necessarily correspond proportionately to improved patient outcomes.
In order to continue best medical care in medical imaging and yet to meet the IAEA's main goal in radiation protection, "the protection of people from harmful effects of exposure to ionizing radiation, and the means for achieving", appropriate "justification in medical imaging" seems crucial.
The new Basic Safety Standards Directive (Council Directive 2013/59/Euratom, BSS) has set up  "General principles of radiation protection" including the justification in medical imaging as follows: "Justification: Decisions introducing a practice shall be justified in the sense that such decisions shall be taken with the intent to ensure that the individual or societal benefit resulting from the practice outweighs the health detriment that it may cause. Decisions introducing or altering an exposure pathway for existing and emergency exposure situations shall be justified in the sense that they should do more good than harm."
According to the BSS directive's definition, the benefits of the general principle of justification in medical imaging seem clear. However, its implementation into clinical workflows has major implications for European practice in several areas, including documented justification processes for radiation exposure as well as dose optimisation, and thus requires a set of clinical imaging referral guidelines in order to allow for appropriate implementation.
Awareness of such guidelines is limited while the use of guidelines as such is minimal, according to an ESR-led study funded by the European Commission (2013).
The key objective of this webinar is to address this situation, the need to introduce a common standard for Europe without national or other biases and the challenges ahead.
Learning objectives
1. To learn about and understand the emergence and importance on the principle of justification – WHY?
2. To understand the necessity of implementing clinical imaging referral guidelines for radiologists, referrers and patients in order to establish a common standard on justification within Europe – HOW?
3. To learn about the benefits for professionals and patients involved – for WHOM?   
About the presenter
Guy Frija is Professor Emeritus at Université Paris Descartes (FR), Professor at Mac Master University (CA), radiologist consultant at the Paris Georges Pompidou European Hospital (FR), and chair of EuroSafe Imaging, a multi-stakeholder and holistic approach of radiation protection, an initiative of the ESR. During his various positions in the European Society of Radiology (ESR), he also stimulated the setting up of a radiation protection committee. He was involved in the development of ESR's clinical decision support system for improving the justification process. He has published more than 150 articles in peer review journals.