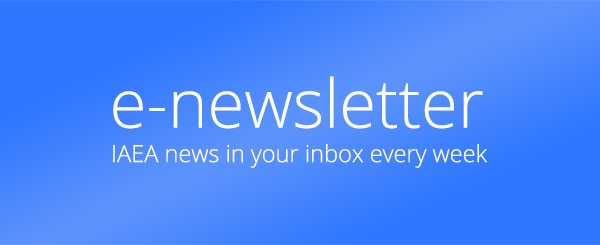 If you would like to learn more about the IAEA's work, sign up for our weekly updates containing our most important news, multimedia and more.
Computer Tomography simulator: an e-learning tool to promote low dose examinations
Video
Presenter: Mannudeep K. Kalra, Anders Persson, Alexandr Malusek, Nils Dahlström
Date of broadcast: 21 March 2019, 4 pm CET (check your corresponding time)
About the webinar
Importance of radiation dose optimization has been stressed due to concerns over radiation-induced carcinogenesis. Since CT scanning contributes to the largest portion of radiation from medical imaging, special attention has been given to dose reduction for CT scanning. Prior studies have highlighted a lack of understanding of CT technologies, leading to high variability in CT protocols. Simulation technologies have been used extensively in medical and surgical fields to enhance learning experience, simplify complex procedures and improve safety. In radiology, simulation techniques have been assessed in interventional radiology and contrast media safety. 
The purpose of this webinar is to learn about educational research software that has been developed and implemented as a web-based educational tool for learning the principles of CT scanning in radiology. It allows users to set various scan parameters and instantly observe the effects of these changes. The result of this research, RadSimCT (RSCT) is a simulation software which utilizes images from actual clinical CT examinations.
 
Different medical specialties including radiology have applied simulation-based training methods to improve learning and performance while improving safety of complex and sometimes life-saving procedures. The Basic Life Support (BLS) and Advanced Cardiac Life Support (ACLS) courses include simulation techniques using sophisticated "patient models", cardiac rhythm simulating ECG systems, and defibrillators. Sophisticated simulation techniques have also been used in surgical training as well. In radiology, use of simulation techniques has been reported for interventional procedures and learning anatomy. Prior studies have demonstrated a tremendous advantage of such simulation-based training over conventional didactic training. To our best knowledge, use of simulation-based training in protocol optimization and dual energy CT has not been reported. We believe that a simulation-based training of protocol optimization will greatly enhance the understanding of caregivers (radiologists, physicists, technologists and in-training students) with regards to imaging protocols and dose reduction or optimization strategies. Our project has undertaken development of a simulation-based training software, based on real imaging CT data, for radiation optimization. The RSCT modules encompass practical aspects of imaging parameters, radiation dose descriptors, image quality and dual energy CT. The modules contain both general and specific details that apply to all CT models from all major CT vendors. RSCT is a seamless bridge between the published resources and the practical implementation of optimal scanning practices.
Learning objectives
With the help of RadSimCT, participants will learn about:
optimization of radiation dose vs. image quality,
scanning parameters that affect image quality and the detectability of lesions,
contrast differences in virtual monoenergetic DECT images. 
About the presenters
Mannudeep K. Kalra, MD, Boston, USA 
Professor of Radiology, Harvard Medical School, Attending radiologist in Massachusetts General Hospital, and Director of the Webster Center for Qualtiy and Safety. 
Dr. Kalra's research and education has focussed on optimization of CT radiation dose and protocols. He has >400 original reseach articles, reviews, book chapters and conference publications since 2002. He has participated in numerous projects with the International Atomic Energy Agency (IAEA), International Council for Radiation Protection (ICRP), and the US National Council for Radiation Protection (NCRP). He has won numerous awards for his work on CT radiation optimization. 

Anders Persson MD, PhD, Linköping, Sweden
Anders Persson is the Director for Center for Medical Science and Visualization (CMIV) and Professor, Department of Medicine and Health, University of Linköping Sweden, and Senior physician Radiology Linköping University Hospital. He is Guest Professor, Clinical Science Intervention and Technology Karolinska Institute Sweden. He has been working in the field of medical image applications for over 25 years. He has worked on the introduction and validation of new visualization tools for the clinical environment and he has taught medical volume rendering in the clinical practice for more than 30 years. Currently his research is focusing on algorithms for specific clinical investigations (Dual Energy CT and 4D-CT Flow) in cardiovascular image field and to develop a web-based for e-learning tools for CT to promote low dose examinations "RadSimCT". He has been a visiting professor Mayo clinic's USA, and a member of the advisory board for the Photon-Counting Spectral CT at MAYO clinics. He has published more than 200 refereed journal and conference publications, more than 800 invited talks and 10 book chapters. He has been awarded several international and national awards.
Alexandr Malusek, PhD, Linköping, Sweden
Alexandr Malusek teaches medical radiation physics at Linköping University and focuses on computer simulations in radiation physics. Currently, he works on the development of a model-based iterative reconstruction algorithm in dual-energy CT, Monte Carlo simulations of the response of radiation detectors, and the development of the CT scanner simulator RadSimCT.
Nils Dahlström, MD, PhD, Linköping, Sweden
Nils Dahlström is an acting head of Division of Radiological Sciences, Department of Medicine and Health, University of Linköping, Sweden. He is a consultant radiologist, Division of Abdominal Radiology, Department of Radiology, Linköping University Hospital. Senior Researcher, Center for Medical Science and Visualization (CMIV). 
As a radiologist, Dr. Dahlström was directly involved in the early adoption of trauma and emergency MDCT, CT and MR angiography and abdominal MRI with liver-specific contrast media. Dr Dahlström has more than 15 years of advanced 3D post-processing. As a researcher he has worked on introduction of advanced visualization applications, and on abdominal MDCT, dual-energy CT and quantitative liver-specific contrast-enhanced liver MRI. Currently, he is involved in research on quantitative hepatobiliary MRI. As an educator, he has initiated the use of case-based digital radiology in the new undergraduate medical curriculum and in academic radiography courses and is currently assisting the development of the e-learning tool "RadSimCT".