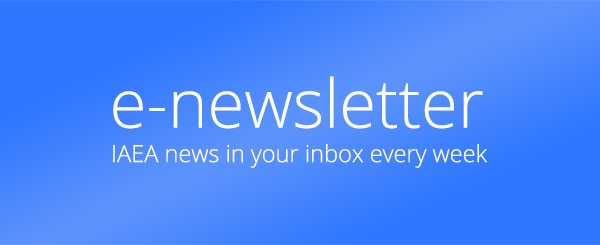 If you would like to learn more about the IAEA's work, sign up for our weekly updates containing our most important news, multimedia and more.
Animal Production and Health Scientific Papers 2020
Scientific Paper
Animal Production and Health Scientific Papers 2020
Souley MM, Issa Ibrahim A, Souley Kouato B, Abdou A, Issa R, Yaou B, Amadou H, Hama H, Adakal H, Abdou N, Cattoli G, Dundon WG. 2020. Co-circulation of genotypes XIV.2 and XVIII.2 of avian paramyxovirus-1 (Newcastle disease virus) in backyard poultry in Niger. Virus Genes. Doi: 10.1007/s11262-020-01804-x.




Jores J, Baldwin C, Blanchard A, Browning GF, Colston A, Gerdts V, Goovaerts D, Heller M, Juleff N, Labroussaa F, Liljander A, Muuka G, Nene V, Nir-Paz R, Sacchini F, Summerfield A, Thiaucourt F, Unger H, Vashee S, Wang X, Salt J. 2020. Contagious Bovine and Caprine Pleuropneumonia: a research community's recommendations for the development of better vaccines. NPJ Vaccines 5: 66. doi: 10.1038/s41541-020-00214-2.




Mohammed Shamsuddin, Mario Garcia-Podesta. 2020. Dairy Production in Diverse Regions: Southern Asia. Reference Module in Food Science. https://doi.org/10.1016/B978-0-12-818766-1.00017-9.




Sassu EL, Kangethe RT, Settypalli TBK, Chibssa TR, Cattoli G, Wijewardana V. 2020. Development and evaluation of a real-time PCR panel for the detection of 20 immune markers in cattle and sheep. Veterinary Immunology and Immunopathology 227, 110092. doi: 10.1016/j.vetimm.2020.110092.




Fine AE, Pruvot M, Benfield CTO, Caron A, Cattoli G, Chardonnet P, Dioli M, et al. 2020. Eradication of peste des petits ruminants virus and the wildlife livestock interface. Front Vet Sci. 7: 50. doi: 10.3389/fvets.2020.00050.




Javan S, Motamedi-Sedeh F, Dezfoolian M, Wijewardana V. 2020. Evaluation of Immune Responses and Histopathological Effects against Gamma Irradiated Avian Influenza (Sub type H9N2) Vaccine on Broiler Chicken. Braz. arch. biol. technol.  63. doi:10.1590/1678-4324-2020200094.




Ziba MW, Chitala C, Settypalli TBK, Mumba M, Cattoli G, Fandamu P, Lamien CE. 2020. First detection and molecular characterisation of pseudocowpox virus in a cattle herd in Zambia. Virol J. 17(1):152. doi: 10.1186/s12985-020-01426-7.




Kgotlele T, Modise B, Nyange JF, Thanda C, Cattoli G, Dundon WG. 2020. First molecular characterization of avian paramyxovirus-1 (Newcastle disease virus) in Botswana. Virus Genes 56(5): 646-650. doi: 10.1007/s11262-020-01770-4.




Elodie Broussard. 2020. Helping to tackle the spread of zoonotic disease: The VETLAB Network. IAEA Bulletin.




Dellicour S, Lemey P, Artois J, Lam TT, Fusaro A, Monne I, Cattoli G, Kuznetsov D, et al. 2020. Incorporating heterogeneous sampling probabilities in continuous phylogeographic inference - Application to H5N1 spread in the Mekong region. Bioinformatics 36: 2098-2104. doi: 10.1093/bioinformatics/btz882.




Mbuyi GT, Kawaya EK, Twabela AT, Cattoli G, Walandila JS, Naletoski I, Masumu J, Dundon WG. 2020. Molecular characterization of rabies viruses from two western provinces of the Democratic Republic of the Congo (2008-2017). Virus Genes. 56(5): 651-656. doi: 10.1007/s11262-020-01784-y. Epub 2020 Jul 21.




Souley MM, Issa Ibrahim A, Sidikou D, Dundon WG, Cattoli G, Abdou A, Soumana F, Yaou. 2020. Molecular epidemiology of peste des petits ruminants in Niger: An update. Transbound Emerg Dis 67: 1388-1392. doi: 10.1111/tbed.13451.




Deng J, Xie X-L, Wang D-F, Zhao C, Lv F-H, Li X, Yang J, Yu J-L, Shen M, Gao L, Kantanen J, Mwacharo JM, Hanotte O, Bruford MW, Ciani E, Periasamy K, Amills M, Lenstra JA, Han J-L, Zhang H-P, Li L and Li M-H. 2020. Paternal origins and migratory episodes of domestic sheep. Current Biology, 30: 1-11.




Dundon WG, Diallo A, Cattoli G. 2020. Peste des petits ruminants in Africa: a review of currently available molecular epidemiological data, 2020. Arch Virol 165(10): 2147-2163. doi: 10.1007/s00705-020-04732-1.




María Agustina Raschia, María Valeria Donzelli, Pablo Daniel Medus, Bibiana M. Cetra, Daniel O. Maizon, Víctor H. Suarez, Rudolf Pichler, Kathiravan Periasamy, Mario A. Poli. 2020. Single nucleotide polymorphisms from candidate genes associated with nematode resistance and resilience in Corriedale and Pampinta sheep in Argentina. Gene. https://doi.org/10.1016/j.gene.2020.145345.




Diallo AA, Souley MM, Issa Ibrahim A, Alassane A, Issa R, Gagara H, Yaou B, Issiakou A, Diop M, Ba Diouf RO, Tall Lo FT, Lo Modou M, Bakhoum T, Sylla M, Seck MT, Meseko C, Shittu I, Cullinane A, Settypalli TBK, Lamien CE, Dundon WG, Cattoli G. 2020. Transboundary spread of equine influenza viruses (H3N8) in West and Central Africa: Molecular characterization of identified viruses during outbreaks in Niger and Senegal, in 2019. Transbound Emerg Dis. 2020;00:1–10; DOI: 10.1111/tbed.13779. 




Gerrit Viljoen. 2020. Vietnamese authorities control the spread of African swine fever with the use of nuclear-derived techniques. IAEA Bulletin 61(2).




Xin Li, Ji Yang, Min Shen, Xing-Long Xie, Guang-Jian Li ,…, James W. Kijas, Michael W. Bruford, Kathiravan Periasamy, Xin-Hua Wang, Meng-Hua Li. 2020. Whole-genome resequencing of wild and domestic sheep identifies genes associated with morphological and agronomic traits. Nature Communications 11: 2815. doi: 10.1038/s41467-020-16485-1.