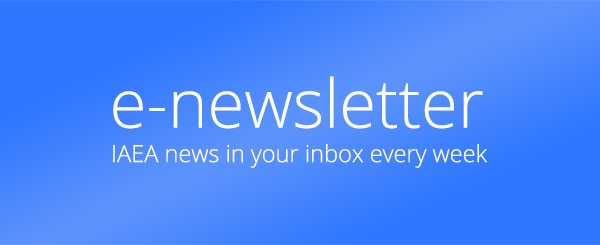 If you would like to learn more about the IAEA's work, sign up for our weekly updates containing our most important news, multimedia and more.
Robots, AI and 3D Models: How High-tech Breakthroughs Help Nuclear Decommissioning
Jeffrey Donovan
Robots, drones, artificial intelligence (AI) and other emerging digital technologies, which are already helping to advance nuclear decommissioning projects worldwide, are set to play an increasingly key role in the sector, as more and more countries choose to immediately dismantle their retired nuclear facilities. 
To help get the job done efficiently and reduce risks, including financial and radiological ones, countries are turning to high-tech tools such as virtual reality and 3D simulation — a trend that looks set to intensify in the coming years as several ageing nuclear power plants and other nuclear facilities are phased into retirement. 
"Whether it's radiation-defying robots working at accident sites such as Fukushima Daiichi in Japan, or 3D modelling used to better plan dismantling at retired power plants, the nuclear decommissioning sector increasingly finds itself at the forefront of technological innovation," said Mikhail Chudakov, IAEA Deputy Director General and Head of the Department of Nuclear Energy. "These technologies provide vital insights for planning and implementing projects, especially in situations which could be risky for people, thereby helping to ensure these jobs are carried out safely and effectively." 
The aim of the project is to harness the expertise of a diverse range of organizations involved in decommissioning to fully realize the potential of new and emerging technologies.
From across Europe to Asia and the Americas, examples of cutting edge tech being used to overcome unique challenges and advance decommissioning projects abound. One organization at the forefront of this trend is Norway's Institute for Energy Technology (IFE), which in 2019 became an IAEA Collaborating Centre focused on supporting IAEA activities and Member States in the digitalization of knowledge management for nuclear decommissioning. IFE has pioneered the use of virtual reality systems to support maintenance and decommissioning in nuclear environments.  
"These technologies are used to train workers, including in radiation visualization, so that they have an understanding of the radiological conditions," said István Szőke, a research manager at IFE. "The core of IFE's expertise is integrating 3D digital models of nuclear assets with physics and AI models, including real-time radiation physics models. This means that there is real physics behind the radiation visualization, and radiation transport models can calculate, for instance, the radiation levels present in the environment surrounding equipment to be dismantled, which is visualized for planning and training purposes." This practice is now becoming increasingly commonplace in decommissioning programmes, including for power and research reactors, as well as for fuel cycle facility dismantling. 
More recently, IFE has supported international collaboration aiming to establish modular, integrated information management systems for use throughout the entire decommissioning process. This involves building an integrated system based on 3D scanning and computer-aided design (CAD) or producing building information management (BIM) models incorporating 3D radiological and other data. Such a model or design manages all information, is integrated with radiological physics models and other systems, and brings them all together into a system that supports the principle of reducing the radiological risk to 'as low as reasonably achievable' (ALARA). 
Digital simulations and 3D modelling have also been successfully used in decommissioning projects in both Italy and Slovakia. Italy's State decommissioning and radioactive waste management company, Sogin, has used 3D models and simulations to help prepare for reactor dismantling and for managing generated waste streams. The Slovak Nuclear and Decommissioning Company (JAVYS) has employed 3D models and simulations in the dismantling of power reactor components at the country's Bohunice A1 and V1 nuclear power plants. Like IFE, Sogin and JAVYS share their knowledge and experience with the global nuclear community as IAEA Collaborating Centres for decommissioning and radioactive waste management. 
A related current trend involves the increased use of robotics. This can reduce the risk to personnel by enabling them to work away from the tools deployed to manipulate components, as well as improving efficiency, as autonomous and remotely operated robots are better able to access and work in hard-to-reach areas. Mobile robots carrying sensors and 3D systems are increasingly used to scan facilities and collect data that can be used to build 3D models of the site. "One of the very urgent objectives right now for the industry is to work out how to use AI to turn 3D scans, which are now very easy to produce, into intelligent BIM models," Szőke said. "Allied to this is the development of 'digital twins' of facilities, which can be used to support the decommissioning of complex systems, but also to organize knowledge of the facility throughout its life cycle."  
In 2022, the IAEA launched a global initiative aimed at boosting the role of new and emerging technologies in the decommissioning of nuclear facilities. The initiative, a collaborative project among organizations involved in the planning or implementation of decommissioning and associated research activities, aims to provide information on the new and emerging digital tools and technologies used in data management, planning, licensing and implementation of decommissioning. 
"The aim of the project is to harness the expertise of a diverse range of organizations involved in decommissioning to fully realize the potential of new and emerging technologies," said Olena Mykolaichuk, Head of the IAEA's Division of Nuclear Fuel Cycle and Waste Technology. The IAEA will publish the project findings in a report in 2025, including information on experiences gained from several countries, with the aim of further supporting successful decommissioning projects around the world.