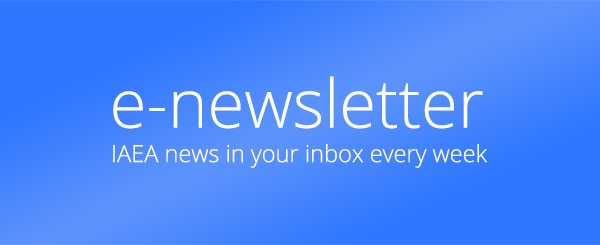 If you would like to learn more about the IAEA's work, sign up for our weekly updates containing our most important news, multimedia and more.
Fashioning Perceptions of Nuclear Energy
Irena Chatzis
Every occasion is an opportunity to bring up the subject of nuclear power.
Public perceptions about nuclear energy have been changing amid concerns about climate change and energy security, as well as energy justice and sustainable development. At the same time, nuclear power advocates are finding innovative and engaging ways to point out the benefits of this clean energy source. One of them is the nuclear energy influencer and model Isabelle Boemeke.
The IAEA will host the Scientific Forum on Nuclear Innovations for Net Zero, 26–27 September 2023, featuring Boemeke as the keynote speaker. The Forum will explore nuclear innovations and how nuclear power supports more secure energy transitions.
Known as Isodope on social media, Boemeke says she believes that nuclear power is vital for a future in which humankind not only survives, but also thrives. In this interview, Boemeke explains how she uses her online persona to inform younger generations about nuclear power.
How did you become interested in nuclear energy?
In 2015, a scientist I follow on social media tweeted about molten salt thorium reactors. I did some research, but did not find information that somebody like me, who does not have a technical background, could understand. That sparked my curiosity about nuclear power, and I asked people what they thought about it. The responses boiled down to this: It is actually good. We definitely need it to solve climate change, but people absolutely hate it.
With the 2019 fires in Australia, the Amazon and California, I realized that we were not moving fast enough in fighting climate change and started looking into solutions; I came across nuclear power again. It struck me that everything that people thought they knew about nuclear power was wrong. It was wrong because they mostly got their information from cultural references, movies and cartoons, such as The Simpsons. I tried to figure out how to inform people that nuclear power is the world's second largest source of clean energy and that countries that have decarbonized their electricity have mostly done so through hydropower or nuclear power.
Is that how Isodope was born?
We live in a world shaped by social media and studded with social media influencers. I realized that the best way to get the message across about nuclear was to create content that appealed and spoke to people on social media. I knew my content had to be very different, as I didn't want to create just another video. I came up with a character who dresses in a futuristic way, uses accessible language and colourful visuals. I call her 'Isodope', which is a pun on the chemistry term 'isotope'.
Who is your primary audience?
My focus is on millennials (people born in the 1980s and 90s) and younger people. The livelihoods of young people are at stake. We, and our children, are going to be the ones living with the worst effects of climate change.
How do you reach out to broader audiences, beyond the pro-nuclear community?
Social media is a very useful tool in that regard. Not only can you create content, which is what I do, but you can also engage with people through that content. You can respond to those who have questions and who are curious.
Every occasion is an opportunity to bring up the subject of nuclear power. When I go to the doctor, for example, and someone asks me about my job, I say that I work with nuclear energy, and it always ends up being an interesting conversation. Engaging the communities around nuclear power plants is also very important. Those people are the best advocates because their communities are benefiting so much from that one facility.
Another topic that should be fully explained is radioactive waste, because that is one of the biggest issues that people bring up. As anyone who has seen nuclear waste can tell you, it is the most boring thing on planet Earth: concrete casks, just sitting there. It would really help to keep showing what nuclear waste looks like and sending the message that it is safely managed and, honestly, more boring than people think.
What has been your biggest accomplishment in your career as a nuclear energy influencer?
Saving the Diablo Canyon nuclear power plant in California from closure in 2022 is at the top for many reasons. When I started working as a nuclear energy influencer, I researched the plants that were scheduled for premature shutdown in the United States of America. There were five of them at the time, and Diablo Canyon stood out, not only because it was a beautiful facility and could keep operating for another 20 years, but also because it was the symbol of the anti nuclear movement in the United States. When Diablo Canyon was built in the late 1960s and 70s, there were a lot of protests, including one rally attended by about 30 000 people.
Saving that plant meant sending a message to the public and to politicians that the tide has changed; people are now on board with nuclear power. I thought it was a worthwhile cause, and I collaborated with a lot of different organizations in the United States. We organized the biggest pro-nuclear rally in the country. I also created a non profit organization called Save Clean Energy and sent a letter to the Governor of California that was signed by 80 leading energy and climate experts and entrepreneurs, urging him to keep Diablo Canyon open. As a result, the plant will remain open for at least five years past its originally planned closure in 2025.
What are your latest projects and plans for Isodope?
I'm currently writing a book, Rad Future, about nuclear power; it is written in an Isodope-like, easy to understand style. On the non profit side, I'm very focused on a coal to nuclear transition, as I think that is probably our best bet to accelerate the deployment of nuclear power, at least in the United States.
Finally, I think that we can reach a whole different audience through the fashion industry. I've done fashion editorials and interviews about nuclear power, and I'll keep doing that. There are a lot of interesting collaborations in the future that can happen there.