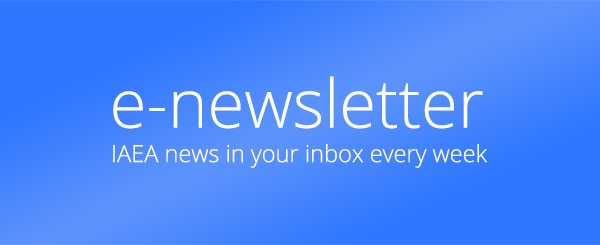 If you would like to learn more about the IAEA's work, sign up for our weekly updates containing our most important news, multimedia and more.
Decarbonizing Industries with the Help of Small and Micro Nuclear Reactors
Emma Midgley
From cement and shipping to oil and gas and steel production, industries are examining and shifting practices to reduce emissions and transition their operations to net zero. New nuclear energy solutions are emerging as a key option.
Upstream operations, such as extracting gas and oil through drilling, pumping and fracking, require massive amounts of energy, currently generated from fossil fuels. Downstream operations, such as refining and processing these materials for use as fuel, or for use in products such as pharmaceuticals or fertilizers, also require heat and electricity that are largely generated from fossil fuels. 
Companies with refining processes and drilling operations need nuclear. These are very carbon intensive processes, and in 30 per cent of cases, the electricity grid cannot reach the areas where extraction or refining are carried out.
"Most oil and gas operations burn fossil fuels to produce the energy needed for their upstream and downstream operations," said Aline des Cloizeaux, Director of the IAEA's Division of Nuclear Power. "To drive down carbon emissions from these processes, ideally drilling, natural gas liquefaction and refining would be electrified with low carbon sources, such as nuclear."
Many oil and gas, drilling, and extraction operations take place in remote locations, and in many cases, it is not possible for these processes to be fuelled by electricity from the grid. It is here that microreactors (MRs) or small modular reactors (SMRs) could provide a low carbon alternative.  
"Companies with refining processes and drilling operations need nuclear. These are very carbon intensive processes, and in 30 per cent of cases, the electricity grid cannot reach the areas where extraction or refining are carried out," said Chirayu Batra, Chief Technology Officer of Terra Praxis, a non-profit focused on decarbonization solutions for hard-to-abate sectors, including coal, industrial heat and heavy transport. "Burning diesel and gas to produce the energy required for these operations is a business loss for the industry and means greater carbon emissions. There is a way for these processes to be electrified through a remote, reliable and carbon-free source. MRs could be used in most locations, even offshore if you place them on ships or floating platforms."
Efficient and clean operations
While SMRs and MRs have potential for deployment in remote locations, SMRs may also have important uses in industries such as manufacturing plastics or other forms of industrial processing using heat. Current nuclear power reactors generate large amounts of heat, but around 60 to 70 per cent of this heat is released to the environment due to the steam to electricity conversion efficiency. 
One way to use nuclear power more efficiently, while driving down carbon emissions, is to use the heat generated by nuclear reactors in industrial or chemical processes. The US Department of Energy's Advanced Reactor Demonstration Program is supporting the development of a high temperature gas cooled SMR for deployment at a manufacturing complex for consumer products.
The chemical company Dow Inc. plans to replace gas-fired combustion and steam engines with an SMR as part of Dow's commitment to reduce carbon emissions by 30 per cent by 2030. Dow's goal is to achieve carbon neutrality by 2050.  
A high temperature nuclear reactor, capable of producing heat at 750 degrees Celsius is particularly suitable as a low carbon method to produce olefins, chemical compounds which can be used as starting materials for plastics, detergents and adhesives. Dow's proposed SMR will be located at an existing manufacturing site in Seadrift, Texas, and is expected to reduce emissions at the site by around 440 000 tonnes of carbon dioxide per year. The SMR will be used to provide process heat to make products such as polyethylene, used in packaging, paints and foams. 
Construction of the four-reactor project is expected to begin in 2026 and be completed by the end of the decade. The project "will enable Dow to take a major step in reducing our carbon emissions, while delivering lower carbon footprint products to our customers and society," stated Jim Fitterling, Dow Chairman and CEO. The initiative "will serve as a leading example of how the industrial sector can safely, effectively and affordably decarbonize," he added.
The IAEA helps to coordinate the efforts of countries around the world to develop SMRs and MRs by bringing together experts, governments and regulatory bodies to enhance the safe and secure deployment of this new technology. The IAEA launched its Nuclear Harmonization and Standardization Initiative (NHSI) in June 2022 and the Platform on Small Modular Reactors and their Applications (SMR Platform) in 2021. The NHSI aims to advance the harmonization and standardization of SMR design, construction, regulatory and industrial approaches, while the SMR Platform supports all aspects of SMR development, deployment, licensing and oversight.