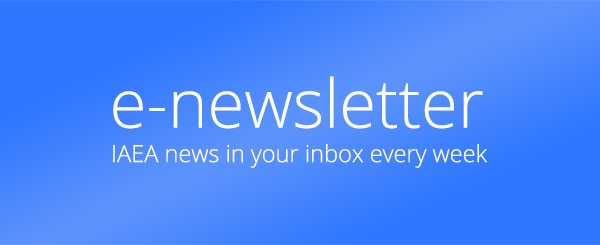 If you would like to learn more about the IAEA's work, sign up for our weekly updates containing our most important news, multimedia and more.
Solidarity in safety
Cooperation enhances nuclear safety worldwide
Joanne Liou
When nuclear or radiological accidents happen, potentially threatening safety and livelihoods, the nuclear community is quick to respond and, longer term, to ensure lessons learned are implemented to strengthen and reinforce safety and prevent future accidents. The initial and ensuing response to the 2011 Fukushima Daiichi nuclear accident — from the local and national to regional and global levels — underscored the essence of this multifaceted response and cooperation found in the nuclear community. Next month, experiences and lessons learned from the accident, as well as achievements undertaken by national, regional, and international communities since, will be the focus of the International Conference on a Decade of Progress after Fukushima-Daiichi.
"International cooperation on nuclear safety is essential for adequate protection of workers, people and the environment, now and in the future," said Borislava Batandjieva-Metcalf, Secretary of the United Nations Scientific Committee on the Effects of Atomic Radiation (UNSCEAR). UNSCEAR, which provides independent scientific evaluations and analyses of the impact of ionizing radiation, is among many partners with whom the IAEA regularly collaborates in the field of safety, as well as in the development of international safety standards.
As we continue to harmonize high levels of national safety, we are contributing to global safety. An incident that occurs at a nuclear installation in one country will impact the rest of the global community.
Responding to Fukushima
In a nuclear power programme, from siting and design to commissioning, operation and emergency preparedness and response, safety is a dynamic practice shaped by standards that are often enforced at the national level. Coordination at the international level is also key.
"Nuclear safety is a national responsibility. Countries take on this responsibility through their institutions, regulators and operators of nuclear technologies and their applications," said Juan Carlos Lentijo, IAEA Deputy Director General and Head of the Department of Nuclear Safety and Security. "International cooperation plays a role in gathering good practices and disseminating this information to allow all countries to be aware of the best practices in nuclear safety."
In the immediate aftermath of the earthquake and tsunami that resulted in the Fukushima Daiichi accident, the IAEA's role became more relevant in real time. "The main goal of the IAEA at that time was to gather information from Japan and disseminate it to the rest of the [international] community to ensure that all Member States were fully aware of what was happening. Simultaneously, the IAEA facilitated international assistance to Japan," Lentijo said.
The international community also enacted coordination mechanisms, such as the Inter-Agency Committee on Radiological and Nuclear Emergencies (IACRNE). Following the 1986 Chornobyl nuclear power plant accident, IACRNE was established to develop, maintain and co-sponsor the Joint Radiation Emergency Management Plan of the International Organizations. The Joint Plan provides the basis for a coordinated and harmonized international response from a range of organizations, such as the World Health Organization, the United Nations Development Programme and the International Criminal Police Organization, INTERPOL.
"During the Fukushima Daiichi nuclear accident, UNSCEAR was involved in the public communications coordination work of IACRNE in order to identify any discrepancies, confusions or inconsistent terminology. New information and measurements have become available in the past years, and UNSCEAR is planning to issue its updated evaluation of the consequences of the Fukushima Daiichi accident this year," Batandjieva-Metcalf said.
Learning from Fukushima
Continuous improvement is a key principle of nuclear safety. About five months after the accident, in September 2011, Member States approved the IAEA Action Plan on Nuclear Safety to strengthen the global nuclear safety framework in 12 areas, including safety assessment of nuclear reactors, IAEA peer reviews, international legal framework and public communication in a nuclear emergency. "The Action Plan was one of the main instruments we put in place to facilitate this gathering and dissemination of lessons and reinforcement of nuclear safety," Lentijo said. "Countries were called upon to reinforce their regulatory infrastructure, as we revisited international safety standards to determine whether they were consistent with what we had learned from the Fukushima Daiichi accident."
One challenge to implementing safety in practice is converting "science and paradigms into international intergovernmental standards that are respected by all States," said Abel J. González, Senior Adviser at the Argentine Nuclear Regulatory Authority and Representative of UNSCEAR. "Under the aegis of the IAEA, a robust international and intergovernmental corpus of safety standards has been established — a unique global normative system for safety."
The IAEA has assumed a leading role in promoting nuclear safety worldwide, through the establishment and constant audit of international safety standards and services for Member States, such as capacity building and review missions.
In 2015, with the assistance of more than 180 experts from 42 countries and partner organizations, the IAEA published the Director General's Report on the Fukushima Daiichi Accident. "Japan was essential in providing information and data, and the report is the result of an extensive collaboration with our Member States and other international bodies," Lentijo said. The report is based on the assessment of facts that address the accident — both its causes and consequences — and gathers the main lessons learned to improve nuclear safety. (To read more on the Action Plan and the Report, click here.)
Ongoing work
"As we continue to harmonize high levels of national safety, we are contributing to global safety. An incident that occurs at a nuclear installation in one country will impact the rest of the global community," Lentijo said. "Countries must be proactive and committed to contributing to global safety, and the IAEA will continue to play a role in facilitating these interactions."
From written standards to instilled cultural norms, nuclear safety is an ever-changing, ever-present aspect of nuclear technology and applications. "Nuclear safety should never be taken for granted. The safety community has an ethical duty to learn from lessons of past accidents and to resolve the identified challenges," González said. "Progress has been made, but there is still work to be done."