World Cancer Day 2020 - Together in the Fight against Cervical Cancer - Programme
7 February 2020, Vienna, Austria
Together in the Fight against Cervical Cancer
7 February 2020
IAEA Headquarters, Vienna, Austria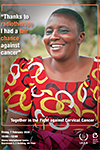 The IAEA World Cancer Day Event takes place on 7 February 2020 in Board Room C (C Building, Fourth Floor) at the Vienna International Centre (VIC).

PROGRAMME
Moderator: Najat Mokhtar, Deputy Director General, Head of the Department of Nuclear Sciences and Applications
10:00-10:10     Opening Session
Opening remarks by Rafael Mariano Grossi, Director General, IAEA

Screening of IAEA Video
10:10-10:20     The Global Burden of Gynaecological Cancers Worldwide
May Abdel-Wahab, Director, Division of Human Health, Department of Nuclear Sciences and Applications, IAEA

- The Role of the Nuclear Techniques in the Management of Gynaecological Cancers (Presentation)

10:20-11:00    Cervical Cancer and the Role of Nuclear Techniques
Human health experts present and discuss the application of nuclear techniques in the prevention, diagnosis and treatment of cervical cancer while focusing on quality aspects in all disciplines of radiation medicine. A Q&A session will follow their presentations.

11:00-12:00    Global Cervical Cancer Initiatives - Panel Discussion
This session will provide an overview of the Global Cervical Cancer Elimination Initiative, the United Nations Joint Global Programme on Cervical Cancer Prevention and Control and the recently launched Women's Cancers Partnerships Initiative. IAEA colleagues, as well as Member State representatives, will speak about the experiences of their respective countries. The panel will also include a Q&A session.
Panellists:
Ambassador Ghislain D'Hoop, Resident Representative of Belgium to the IAEA
Ambassador Azzeddine Farhane, Resident Representative of Morocco to the IAEA
Ambassador Mikaela Kumlin Granit,  Resident Representative of Sweden to the IAEA and Chair of the Board of Governors
Shannon Hader, Deputy Executive Director, Programme, Joint United Nations Programme on HIV/AIDS (UNAIDS)
Elizabeth Mattfeld, Project Coordinator, United Nations Office on Drugs and Crime (UNODC)
May Abdel-Wahab, Director, Division of Human Health, Department of Nuclear Sciences and Applications, IAEA
Lisa Stevens, Director, Programme of Action for Cancer Therapy (PACT), Department of Technical Cooperation, IAEA
Shaukat Abdulrazak, Director, Division for Africa, Department of Technical Cooperation, IAEA