2013-12-09 – At a recent American Nuclear Society meeting, IAEA Deputy Director General Alexander Bychkov focussed on US President Eisenhower's historical "Atoms for Peace" speech. "Peace, health, prosperity are key words in everything about us," Mr Bychkov said. He went on to ask: "But how do you reach prosperity? Really, how do you prosper without energy?" Read more...
2013-12-03 – Experts and engineers from 32 Member States focussed on the application of INPRO Methodology to evolutionary reactors at the 7th INPRO Dialogue Forum. Reactor products from AREVA, Candu Energy Inc., GE Hitachi Nuclear Energy International, KEPCO Engineering and Construction, KHNP, Mitsubishi and ROSATOM were represented. Read more...
2013-12-02 – The INPRO Steering Committee met on 18 November 2013 at the IAEA to hear about INPRO's recent progress and endorse the proposed INPRO Action Plan for 2014-2015. Read more...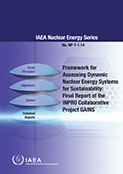 2013-11-15 – The final report of the INPRO Collaborative Project GAINS has just been released by the IAEA. Entitled 'Framework for Assessing Dynamic Nuclear Energy Systems for Sustainability', this Nuclear Energy Series Report NP-T-1.14 presents the GAINS study, its results and conclusions drawn. Read more...