INPRO News Archive
2013
2013-04-03 – The latest IAEA Bulletin, with a specific focus on Nuclear Power, has been issued. The Bulletin supports the International Ministerial Conference on Nuclear Power in the 21st Century, in St. Petersburg, Russia, 27-29 June 2013. We hope you will find it interesting for your work and will also promote it among your contacts. Read more...
2013-03-27 – Ten experts from seven Member States met with experts of the INPRO Group on 18?20 March 2013 at the IAEA to chart the way forward for a new INPRO Collaborative Project, entitled "Roadmaps for transition to globally sustainable nuclear energy systems". Read more...
2013-03-19 – Romania has requested support from the IAEA to complete a Nuclear Energy System Assessment (NESA) using the INPRO Methodology. Experts from Romania and the INPRO Group met in Bucharest to discuss the way forward. Read more...
2013-03-04 – Some 40 experts of the Generation IV International Forum (GIF) and the IAEA met in Vienna on 28 February to 1 March to share information on progress and future activities related to R&D and technology innovation of nuclear energy systems. Read more...
2013-03-01 – Using currently known uranium resources, fast reactors operating in a closed fuel cycle would be able to provide energy for thousands of years as well as easing concerns about waste. Read more...
2013-02-27 – Experts from Member States, the Generation IV International Forum (GIF) and the IAEA have met in Vienna this week for a joint workshop on Safety Design Criteria for Sodium-Cooled Fast Reactors (SFR). Read more...
2013-02-01 – The IAEA is welcoming Kenya as a new member of INPRO. Kenya will be represented through the National Council for Science and Technology in Nairobi. Read more...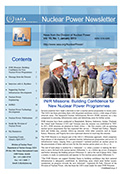 2013-01-07 – The latest issue of this Newsletter features an interview with Alexander Bychkov, IAEA Deputy Director General for Nuclear Energy, on IAEA's integrated services to Member States in nuclear energy systems development. Highlights from INPRO are included on p. 10-13. Read more...